We knew it was coming, one way or the other. The buzz (and the anxiety) had grown to a palpable level in our community, in our house, between friends and families, kids and adults. Like so many Junes before, opinion days found me at 8 a.m. with eyes glued to scotusblog, shoulders inevitably tense, remembered snippets of oral arguments running randomly through my head as my mind kept trying to predict an outcome, in spite of my futile efforts to stop. Unless you're following a case this obsessively closely, unless nine people are literally deciding the worthiness of some aspect of you, I think it's a difficult experience to really fathom. The Supreme Court's Obergefell case was technically about marriage equality, but they're always about so much more than the specific right at issue.
When last Thursday and Friday were added as opinion days to SCOTUS's schedule, there was a lot of speculation the decision would come out on Friday, the anniversary of Lawrence and Windsor. I was skeptical … I couldn't imagine SCOTUS giving that any thought plus I still saw the odds of the opinion going our way as completely 50/50. Still, by Thursday evening there were 5 cases and two opinion days left and though logically I knew Monday was more likely, I told Jodi on the way to dinner Thursday night, "I have a feeling about tomorrow."
In spite of the fact Friday was the first day in a week the Divine Miss M could sleep in, I had strict instructions to wake her up at 10 minutes until 8. Aside from how this ruling would affect her family, she had some pretty personal stakes in this case. Over the past three years, she's spoken at marriage rallies and to reporters and contributed to PFLAG National's Amicus Brief to the Tenth Circuit Court of Appeals in 2014 and then again this year in an Amicus Brief to the United States Supreme Court for this case.
I slept fitfully Thursday night, even when I managed to drift off I kept having vague dreams about the decision. On Friday morning, I woke M up as instructed. Jodi could stay for ten minutes before she had to leave for a meeting. The three of us were staring at scotusblog on my computer, my friend, Raga, who lives in India also watching and texting. At 7:58 a.m., our friend, Mardi Moore, text, "It's today. I feel it." At 8:01, the following came up on the live blog:
"Here's Lyle with the first opinion."
*15 or so seconds go by*
 "Marriage."
*At this point, I grabbed M's arm so hard she finally told me I was hurting her.*
"Kennedy has the opinion."
*Jodi said, "Kennedy, that should be good." But my anxiety has never been so easily assuaged. I'd long since concluded Kennedy would write it even if we lost. He had too much respect for the gay community to not do so. I know only 30 seconds or so went by but it felt like an eternity, and then   *
"The Fourteenth Amendment requires a state to license a marriage between two people of the same sex."
*stunned silence (and honestly I still can't read that sentence without getting choked up)*
I said, "Oh my God" about three times and then tears and laughter started all around. My little family, huddled around my laptop, watching the ruling and realizing we'd won – it's a moment I will never, ever forget. Raga text asking if I was crying too and Jodi had to answer for me. I text Mardi and got to tell her we won and then everything seemed to happen quickly. Friends and family were sending us congratulations, I called the Hairdresser and we cried and cheered together.
Jodi had to leave for her meeting and Miss M and I finally sat down outside and read the full opinion together, crying, cheering and laughing some more, underlining our favorite parts. Admittedly, I haven't done more so far than scan the dissents but I can say that Scalia's, "Ask the nearest hippie" is the most hilarious thing I've ever read in a SCOTUS opinion (and the fact that Scalia only makes me laugh is a testament to my current level of jubilation).
We went to the Out Boulder Decision Day Celebration that evening on Pearl Street Mall, outside the old courthouse building. As we were walking toward the gathering, my Chosen Tribe were conversing in a group text about seeing ugly comments on Facebook and asking, "What is wrong with people?!" One had been un-friending select individuals. I'd been so lucky to be surrounded by nothing but positivity the entire day. My FB feed was the epitome of this:
When we arrived at the celebration, so many friends were there, both LGBT and allies, from all over the state. Jean Hodges, currently PFLAG National's President, who has fought for equal rights for her son and all LGBT persons for decades, was one of the first people I saw.
Everyone was so happy. There was joy, sheer joy, bubbling over throughout the crowd. I was gratified when we started the celebration by reading the names of the nine victims in Charleston. I'm all for celebrating, I've been reveling in this ruling for three days but I know there is so, so much work left to do for many communities, not just our own. Then Mardi read the last paragraph of the ruling and I began to cry again.
Others spoke, including Jean Dubofsky, who had argued Romer v. Evans before SCOTUS in 1996, Hillary Hall, the Boulder County Clerk who defied Colorado's AG last year and began issuing same-sex marriage licenses, community faith leaders and more. Congressman Polis arrived, fresh in from Washington, and shared his experience of being on the Supreme Court steps when the ruling was issued. He said the crowd was waiting with excitement, anxiousness, anticipation, wondering if today would be the day. After they found out the marriage decision was coming down, he described seeing the infamous running of the interns who had the opinion in their hand … and when he saw the huge smiles on their faces, he knew immediately we had won. He described the Gay Men's Chorus breaking out in song and a party on the Supreme Court steps like had probably never occurred there before.
I wouldn't trade being at home with my family for anything, but this would have been pretty awesome: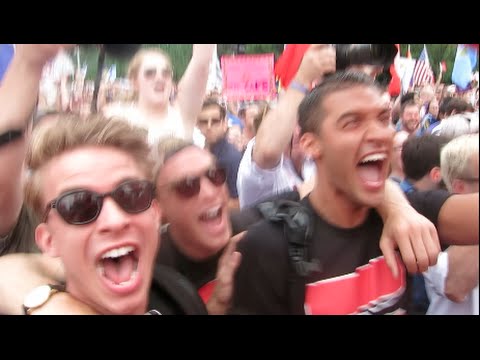 We celebrated all evening with families and friends, several referencing how truly surreal this all felt. I have likened it to Christmas morning as a kid when you really, really don't want the moment to end, but wow are you ever glad the wait is over. That day, I loved everyone, even the intolerant, though I hadn't seen any. I am usually adamant about celebrating for a day and then rolling up our sleeves the next to get back to work, but I'll admit, I've reveled in this one for a weekend.
The next morning I had to attend a working retreat with PFLAG Boulder County, everyone was chuckling a bit at my endless smile and 'love everyone' attitude – apparently I am normally crankier than even I realized. Still, I can't recall feeling this much joy. We went to Longmont Pride that evening to celebrate with our community and our friends. Afterward, the three of us went to a nearby restaurant for dinner. Longmont is a more conservative town than Boulder and though I didn't specifically give that a lot of thought, I still wouldn't have anticipated the events at dinner.
We were wearing All Love is Equal and One Love t-shirts. As we were waiting for a table, a woman came out of the restaurant, looked at our shirts and started an impromptu, raucous celebration outside. It turned out her daughter is gay and she told us she'd been celebrating for 24 hours. We assured her we'd been doing the same. You could feel the joy emanating from her, not unlike ourselves, I'm sure.
After we were seated, a conservative looking older gentleman passed our table. Suddenly he stopped to tell us that he really liked our t-shirts and then said, with seriousness, "Yesterday was a good day, wasn't it?" We quickly agreed and then after he walked away, I promptly started crying again. How can one not be moved by unexpected affection and support from so many people, including strangers? Three years ago at this time, we were still mostly in the closet, out only to closest friends and family, hiding our own family from work so as to avoid termination, living in constant fear and getting ready to pack all our belongings and our life to head out in search of community.
And then Friday.
I'm still having a hard time wrapping my mind around it all.
This morning, the adrenaline of the weekend was starting to catch up with me but I thought it important for us to not skip church. Although we have always attended open and affirming churches, I still worry about the Divine Miss M associating religion with anti-LGBT sentiments. I thought she should see various churches celebrating today, as I knew they would be.  I am so glad we went.  Our pastor struck the perfect chord between celebrating and being vigilant. Focusing on Psalm 130, he discussed waiting – as we had waited so long for this moment. As is so true, he noted the strength of the support from straight allies in the LGBT movement. It is a rare, rare thing for any group to make progress without allies and my gratefulness to our allies is immeasurable. He compelled us to celebrate this hard fought victory but talked about the importance of continuing our own fight against discrimination and especially, of being allies to the African American community.
He also reminded us how to be an ally to any oppressed group – 1. Actively listen to their stories, 2. Let them set the agenda and 3. Ask what you can do.
I know that in addition to the inevitable backlash against the LGBT community, which had started before this particular ruling, there will be and already are states who attempt to resist this ruling altogether and my heart breaks for the additional delay those families will endure. After all, it's not as if this lovely image is all that long ago in our history.
But progress moves forward, as do we.  I still love everyone today and this weekend will not soon be forgotten. I hope the adolescent youth out there who are afraid to come out can remember this weekend as well in order to gain strength for the future.
I'll leave this with the exchange with which we always end our church service:
Do all the good you can.
By all the means you can.
In all the places you can.
At all the times you can.
With all the people you can.
As long as ever you can.
—–
Happiest of Prides, everyone!